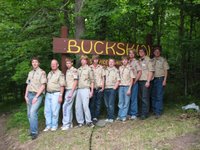 It was a nice warm
morning on Sunday, July 12, when eight Boy Scouts of Melrose Troop 68 met to spend a week at Many Point Scout Camp which is located north of Park Rapids, Minnesota. Unfortunately, the nice weather would not stay with the Scouts, but did they let that stop them from having fun? No way! They still had a great time.
A typical day at camp is broken into three parts. The Scouts work on merit badges and advancement projects in the morning. They participate in troop activities in the afternoon. The boys scatter to all areas of the camp in the evenings when all program areas are open for fun.
Monday afternoon was busy for the Boy Scouts of Troop 68. It began with an hour long session of team building games called Ethics in Action. They than participated in a camp service project for their Super Troop Award. Then it was time to cool off at the waterfront for a game of water polo.
Tuesday's activities included an hour of canoeing, a visit to the fire tower and museum, and the Ironman competition, but due to thunderstorms and lightning moving into the area these activities were cancelled for safety reasons. The campers used this time to relax in their campsite.
Wednesday's schedule included some the the troop's favorite activities. The fun began at the Buckskin Camp climbing tower and bouldering wall. The troop went to the archery range to work on their skills with the bow and arrow, tomahawks, and sling shots. The afternoon finished with an hour at the beachfront sauna.
The weather turned
very cool on Thursday so the Scouts decided to play eighteen holes of disc golf on the camp's new course instead of swimming at the beach. This was followed by the troop shoot at the rifle range.
The weather stayed cool and cloudy on Friday so the boys followed their 'camp reflection' time with another trip to the disc gold course, instead of going sailing. Many of the boys improved their scores from the previous day. The day ended with the closing campfire program which included most of the troops in camp performing a song or skit. The Melrose Boy Scouts performed one of their favorite skits, The Pickpocket, to the enjoyment of the whole camp.
The eight Scouts also did very well on working on advancement. They earned a total of 21 merit badges during the week.