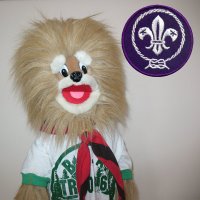 It has been over a month since the last show so Buttons and I thought we better get one posted before you all think that we quit doing them. We have not. In fact, we have outlines for another three shows, and hope to write a few more while we are at summer camp this year.
During
Around The Scouting Campfire #7
we find out that Buttons had a small problem during his scoutmaster conference for his Star Rank, and how he came up with the theme for this show which happens to be The Scout Law. Scoutmaster Steve then introduces us to a Scout Law song by the Croutons, and talks about Boy Scouts and adults who use bad language. During Buttons' Corner we hear about one of the radical Scout's first videos uploaded to Youtube. The show closes with Scoutmaster Steve sharing a story about being trustworthy from his 1950's version of Scoutmaster's Minute book.
Steve and Buttons would like to thank everyone who listens to the podcast, and who have sent emails about how they have enjoyed the shows.
Please rate the show and/or leave a comment at the iTunes store or at PTC Media forums.
You can contact Buttons at buttonst68@yahoo.com. You may contact Scoutmaster Steve at stevejb68@yahoo.com. We appreciate your emails and letters.
RSS Feed – http://feeds2.feedburner.com/MelroseScoutingAudioPodcast
Download episode by clicking HERE.
This podcast is found on iTunes at
http://itunes.apple.com/WebObjects/MZStore.woa/wa/viewPodcast?id=307979159
and is a member of the family of Scouting themed podcasts at PTC Media found at
http://www.ptcmedia.net/
Show notes:
Buttons Talks About The Scout Law is show #6 of Melrose Scouting Productions Podcast.
.