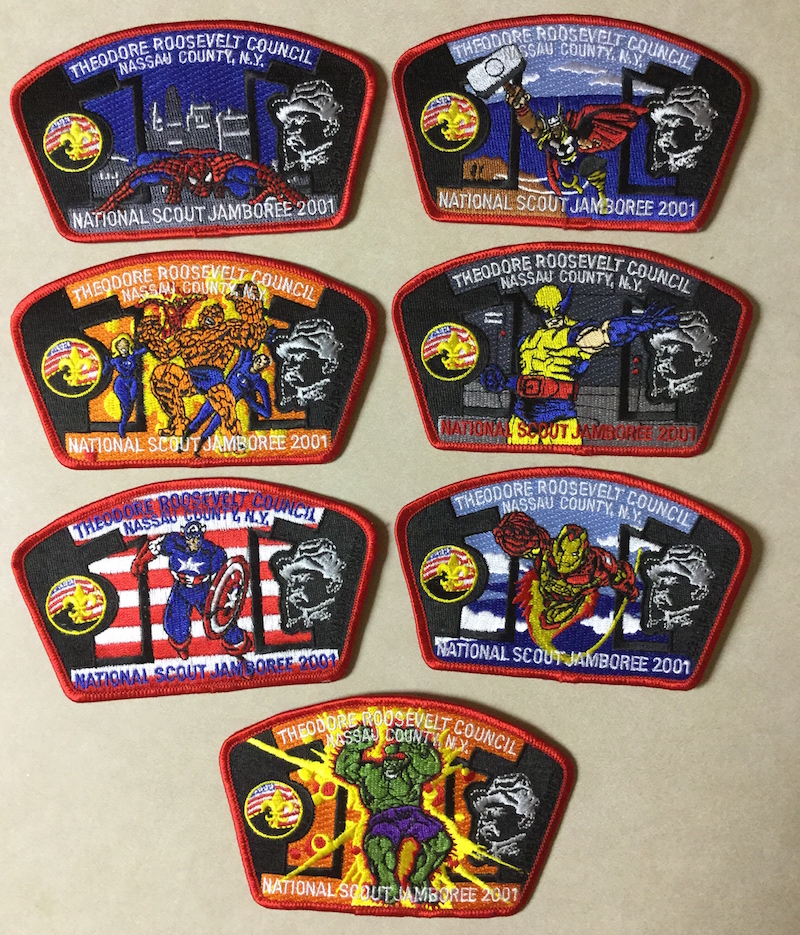 I attended the 2001 National Jamboree as the scoutmaster of Troop 1417. I had a great time. I had a great troop. And I collected quite a few patches from the event. In fact, I still collect patches from the event when I find some for a reasonable trade or cost.
One set of patches that I was not able to attain at the Jamboree was the seven piece Marvel shoulder patch set from the Theodore Roosevelt Council of New York. Each of the patches featured a different super hero: Spiderman, Thor, Wolverine, Captain America, Ironman, the Hulk, and the Fantastic Four. The patches were extremely popular at the Jamboree and soon became hard to find, and very hard to get when you did find them. The National Office may have stated that patches should be traded one for one, but after a couple days you did not find that rule being followed very well. Once I discovered how many patches it would "cost" me to get them I decided to let them go and trade for other CSP's.
Well, time moves on and years pass by us. Occasionally I would check out eBay to see what I could find for 2001 Jamboree patches and memorabilia. Once in a while I would find a good deal and was able to add to my Jamboree collection. Imagine my surprise when I discovered the Marvel patches for sale at what I considered a reasonable price. It did not take me long to press the BUY button and add this set to my notebook.  I should point out that I did not buy the patches as one set, but bought them individually over the span of a few weeks. I paid anywhere from $5 to $10 each.
Have you been to a National Jamboree? Did you collect any patches? What were your favorites?