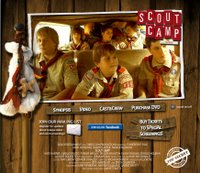 I recently had the opportunity to chat with Garrett Batty, the writer and director of the new film Scout Camp: The Movie, during a recording of the Leaders Campfire podcast. Garrett was nice enough to give us an hour and a half of his time. The episode came in at about 45 minutes after editing. Check it out at the Leaders Campfire site or the PTC Media site.
I am a bit of a movie buff so when I saw the film's trailer on Youtube a couple of months ago I rated it and added it to my favorites. When I realized this film would not be going into general release I sent an email to Three Coins Productions through Youtube to ask if the movie would be shown in central Minnesota. I received a reply from Garrett stating the film was going to be released on dvd but some councils were arranging special screenings.
After a few
more emails Garrett agreed to be a guest on the Leaders Campfire podcast. Cubmaster Chris and I had a great time talking to him about making the movie, the cast, and his Scouting background. I am not going to write much about the interview in this blog because I want you to listen to the podcast, but I will tell you that I am even more excited to see the movie now than I was before our chat.
Garrett was kind enough to send PTC Media some copies of the dvd and posters of
Scout Camp: The Movie
to be used as prizes for a drawing for the listeners of the Leaders Campfire and people who use Twitter. Details of the drawing can be found
HERE
.
Cubmaster Chris and I appreciate Garrett Batty taking the time to join us for the show. The three of us hope you enjoy listening to it and pass it on to your Scouting friends. Don't forget to leave us a comment and enter the drawing. And be sure to order your copy of
Scout Camp: The Movie
.