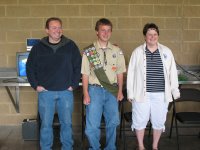 The rank of Eagle Scout, Boy Scouting's highest honor, is something to be taken seriously. The family, troop, and Eagle Scout will spend a lot of time planning the Eagle Court of Honor. In recent years, a video of the Eagle Scout's years as a Cub and Boy Scout has become a common part of the ceremony. It is easy enough to put one together with today's digital photos and computer programs. I should know. I have put together many of these slide shows over the years.
One of the great things about having a video podcast is that I can post videos of a lot of Scouting activities. One subject area I have been lacking in is posting the videos of the Eagle Scouts of our troop. During the next year I plan to slip in the occasional Eagle video not only to recognize these Scouts who have earned this prestigious award, but also to give you ideas on what you could do for the Eagle Scouts of your troop.
This video features Chris K.
, who earned his Eagle Award in February 2007. Chris was the troop's 16th Eagle Scout since I became the scoutmaster. He picked out the music for this video, and to tell the truth I did not know how it would play with the photographs. He choose the theme from the Lion King and the theme from the old television series, The Monkees. I have to admit, it turned out very well. The audience at the court of honor really enjoyed it. I hope you do also.