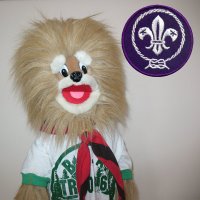 The sixth episode of Around The Scouting Campfire is now available. It is time to join Scoutmaster Steve and Buttons, the radical Boy Scout, for another 20 minutes of fun and reflection on Scouting.
During this show we discover what advancement rank Buttons holds in Scouting as he and Scoutmaster Steve talk about his upcoming scoutmaster conference. What merit badges has Buttons earned? Why did he choose those merit badges? Steve goes on to talk about the ten things he likes to cover during a scoutmaster conference. He follows it up with a little humorous story of a little old lady who every morning Praises the Lord.
During Buttons' Corner we learn about ten nutrition myths. Yeah, Buttons talks to us slightly overweight adult leaders and Scouts about how to stay fit. I bet you never thought that would happen.
The show ends with Steve and his Scout Leader Minute, which is about The Stuff A Fellow Is Made Of, from the 1956 book Ideas and Stories For The Scoutmaster Minute.
Steve and Buttons would like to thank everyone who listens to the podcast, and who have sent emails about how they have enjoyed the shows.
Please rate the show and/or leave a comment at the iTunes store or at PTC Media forums.
You can contact Buttons at buttonst68@yahoo.com. You may contact Scoutmaster Steve at stevejb68@yahoo.com. We appreciate your emails and letters.
RSS Feed – http://feeds2.feedburner.com/MelroseScoutingAudioPodcast
Download episode – http://www.melrosetroop68.org/podcastaudio/MSAPE6.mp3
This podcast is found on iTunes at
http://itunes.apple.com/WebObjects/MZStore.woa/wa/viewPodcast?id=307979159
and is a member of the family of Scouting themed podcasts at PTC Media found at
http://www.ptcmedia.net/
Show notes:
Requirements for the Star Rank: http://www.usscouts.org/advance/boyscout/bsranks.asp
The Scoutmaster Conference: http://www.melrosetroop68.org/2006/09/scoutmaster-conference.html
Top 10 Nutrition Myths: http://www.centracare.com/community/spotlight/spotlight_spring_2009.pdf
.