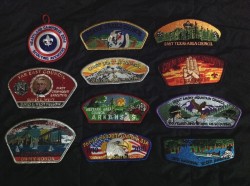 It is inevitable. If you are in the Scouting program for several years you will start collecting something. It could be activity patches. Maybe it will be council shoulder patches (csp's) or Order of the Arrow lodge flaps. It might be coffee mugs or bolo ties. Would handbooks or fieldbooks be more to your liking? What do I collect? All of the above.
When I went to the Philmont Training Center in June I brought along some Central Minnesota Council shoulder patches to trade with Scouters from around the country. The first time I was introduced to patch trading was at the Philmont Training Center in 1984, and I was not prepared to do any trading. I have tried not to make that mistake anymore whenever I leave the council.
I brought 19 csp's with me to trade at Philmont this year. Trading was to take place Monday evening that week. I was going to be ready.
I was a bit disappointed to see that only a half dozen people show up to trade patches at the South Tent City activity building, but I was able to do some trading. I was also able to trade a couple patches during the rest of the week. I went back to Minnesota with ten new council strips and one Order of the Arrow patch. I did well. I was happy.
There was one patch for trade that night that I really wanted for my collection. It was a Far East Council should patch that featured James E. West, the first Chief Scout Executive of the Boy Scouts of America. The young Scouter (a possible staff member?) that had the patch did not want to trade one for one. He wanted more. I did not want to give up any of my new patches so I prepared to leave without it. But than another young Scouter arrived and he had the same patch to trade. He was willing to trade one for one. I was able to add James E. West to my collection.
There was one patch that eluded my trading. National Commissioner Tico Perez was in attendance during the week I was at the training center. I tried to trade csp's with him a couple of times but each time he did not have any patches with him to trade. He did however have his special red "National Commissioner Tico Perez" patch which he gave me. To tell the truth, I was more excited to add this rare patch to my collection than his council patch.
What do you collect? How many items do you have in your collection?