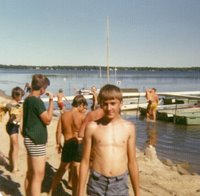 He was a small tenth grader. Many of the eighth graders were as big or bigger then he was. When he received his drivers license at 16 years old he was 5′-2″ and weighed only 88 pounds. He was the weak skinny kid who would get pinned during wrestling in phy ed in less then 15 seconds. He was shy and quiet and would blend into a crowd, trying not to bring attention to himself. He was not physical enough to join a high school sports team so he became the team's student manager for basketball and baseball.
He was also a Boy Scout. He enjoyed Scouting: the camping, the hiking, and the other activities. Even though he was two or three years older than most of the members of the troop he had found a group in which he could participate and have fun. He served as the senior patrol leader for much of his three and a half years in the troop.
This little twerp finally hit a growth spurt during his high school years was became a skinny 5′-8″ teenager when he graduated from high school. He continued his education at a two year vocational college. He often thought that it would be fun to get involved with a Scout troop once he found a job and settled down. And he did. Within a month of graduating college he had found a troop and became a nineteen year old assistant scoutmaster.
He worked well with the troop. He got along great with the boys. He earned the respect of the parents and committee. Shortly after he turned 21 years old, after spending only one and a half years as the assistant scoutmaster, the committee appointed him as the scoutmaster of the troop. He was very nervous during his first court of honor as an adult leader. His hands were shaking. His voice cracked. But he got through it. Over the years he became more comfortable talking in front of the troop.
During his first decade as a troop leader he took part in nearly every training course offered by the district and council. He was invited to become a staff member for several of the training courses. He even joined the district roundtable staff and began a junior leader roundtable which lasted for a couple of years.
This young man continued with the troop as the decades began to pass him by. He took the Boy Scouts to the High Noll Trail in Virginia and the Charles Sommers Canoe Base in Minnesota. He went backpacking with five crews at Philmont Scout Ranch in New Mexico. The only years he missed the annual week-long trip to summer camp were the years he was attending a high adventure base.
This small tenth grade Boy Scout who grew up to become the scoutmaster of his hometown troop can celebrate 29 years of being a Scout leader this month. He is a little bigger then he used to be, unfortunately only growing in the direction you don't want to be growing as you approach your late 40's.
By the way, if you have not guessed it by now, that twerp of a tenth grader was me.