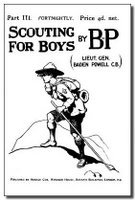 The Boy Scouts of America celebrated its 99th anniversary on Sunday, February 8. That is a lot of advancement being earned, service projects being done, and boys learning about being physically strong, mentally awake, and morally straight. I still believe that Scouting is one of the best organizations that a boy and young man can belong to, and I dislike it when a political group decides to step on the principles of Scouting to further its own cause.
That is why when I discover an article about the positive aspects of the Scouting program I like to pass it along for you to read. One of the people I follow in Twitter, DavidTCopeland, recently posted a link to an article found in the Desert Valley Times. The article is written by David Bye, who was a Scout himself as a youth. He writes his article about the good in Scouting, and how things could be in society if more people had been a Scout as a youth. He writes:
"When Robert Baden-Powell founded the Boy Scouts movements in the early 1900s, it was his aim "is to develop among boys a power of sympathizing with others, and a spirit of self-sacrifice and patriotism."
Baden-Powell envisioned a standard of exemplary conduct that included respect for all, without regard to class distinction. "Everything on two legs that calls itself a boy has God in him," he wrote, "although he may — through the artificial environment of modern civilization — be the most errant little thief, liar, and filth-monger unhung. Our job is to give him a chance."
He was a little ahead of his time. The Fourth Scout Law was a powerful challenge to the racism and British snobbery of the time: "A Scout is a friend to all, and a brother to every other Scout, no matter to what country, class or creed, the other may belong." That such a clear standard of equality and tolerance has sometimes been followed imperfectly does not negate the ideal."
I invite you to read the whole article at http://www.dvtnv.com/ (under dvt opinion) and leave a comment. I think that we who appreciate what the Scouting program has to offer need to do want we can to support articles like this one.
Update: Another Twitterer, LatterDay_Scout, has posted an about an article of a cross country tour celebrating 100 years of the BSA. This looks like something that would be worthwhile checking out. Check out the article at
http://www.freep.com/article/20090203/FEATURES01/902030306/Michiganders+to+celebrate+100+years+of+Boy+Scouting