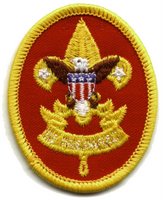 It is the beginning of the month, and that means that I am late with this and that it is time for another ten questions from the 1984 Scout Mania trivia book. The theme this month is "People and Places". Keep in mind though, these questions are based on the 1984 Boy Scouts of America Scout Handbook. Are you ready to begin?
(Question answers will be written at the bottom of this post, and are from the Scout Mania book. No cheating is allowed, after all, you are a Boy Scout or Scout leader, correct?)
1) What is a "sunshine Scout"?
2) What is the name of the group that plans all troop activities?
3) What are the two things a Scout always leaves behind when breaking camp?
4) Which Scouting Unit has squads and teams instead of patrols and troops?
5) Where did the canoe come from?
6) Who is the adult leader of a Scout Troop?
7) Where is the USS Arizona monument?
8) Who wrote the USA's national anthem? When?
9) How old was Joseph Lane when he created Boy's Life magazine?
10) What is a Boy Scout or Explorer called who assists a Cub Scout Den?
Okay, do you have you answers chosen?
Are you ready for the correct answers according to the 1984 Scout Mania Trivia book?
Here they are….
1) A Scout who only shows up when the sun shines or when he feels like it.
2) The patrol leader's council.
3) A campsite in better shape than he found it. His thanks to those who made the camp possible.
4) Varsity Scouting.
5) The American Indians (Native Americans)
6) The scoutmaster.
7) At Pearl Harbor.
8) Francis Scott Key on September 14, 1814.
9) 18 years old
10) A den chief.
Did you do well? Stay tuned for more trivia in future postings.