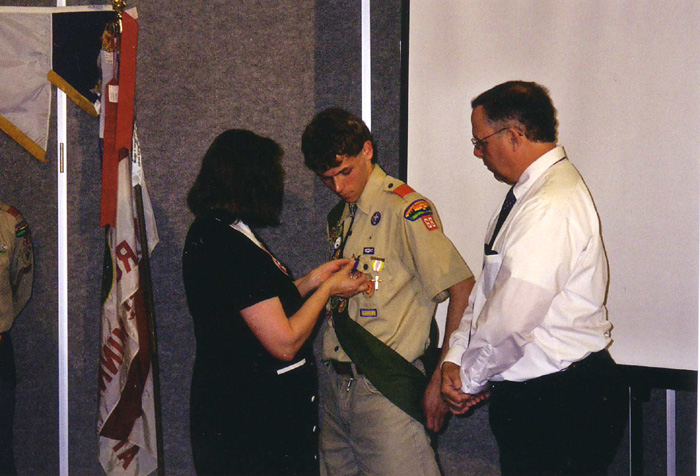 It was the weekend of Mike's Eagle court of honor. I awoke Saturday morning with a song in the head that I thought would be great for the opening credits of the video I planned to create from taping the ceremony. I sat down at my computer, scanned some pictures of Mike from his years in Scouting, and began to edit the opening to the video.
I began taping troop courts of honor and Eagle courts of honor shortly after our city started a community access television station. I thought it would be a great way to add further recognition for the achievements of the Scouts, and it would be one more way to keep Scouting in the public view.
I always gave the Eagle Scouts a copy of the tape of their award ceremony. I felt that it would make a nice souvenir they could watch later in life. Did any of them ever watch the tape? I don't know, but I hope they did.
Back to Mike's court of honor….
Later that morning I received a phone call from Mike's mother. One of the guest speakers had called her to tell her that he may be a little late arriving at the ceremony. She asked if I had any ideas what could be done to fill some time if he came late. I explained that I was editing a slideshow of pictures of Mike for the opening in his video. I could add more photos and lengthen the slideshow, thus making it into a four or five minute presentation. She liked the idea and offered to find some pictures of Mike from his years as a Cub Scout.
Thus, my two minute video opening became a four and one half minute presentation. The guests attending the ceremony enjoyed the slideshow, as did Mike and his family.
Since then, I have had to make a slideshow for each of the troop's Eagle Scouts for their ceremonies. I have also had three Scouts from other troops ask me to edit a show for their court of honor. The slide shows have become quite popular. When I find the time, I have been making shows for the previous Eagle Scouts from our troop.
To date, I think I have done twelve Eagle Scout slideshows. Yes, they take some time to put together, but the smiles and chuckles from the guests, the families, and especially the Eagle Scouts, have made the time seem well spent.
Several of the slideshows can be seen on our troop's website. Check them out at:
http://melrosetroop68.org/EagleHall.html
There are slideshows for about half of the troop's Eagle Scouts so far, with more coming in the future.