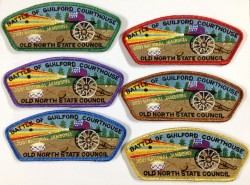 The 2001 National Jamboree may be ancient history to today's Boy Scouts but it is not to me. Not yet anyway. That is the Jamboree I attended as a scoutmaster of one of two troops sent from the Central Minnesota Council. I had a great time at Fort A.P. Hill, as did the Scouts in my troop.
I did not get to do a lot of patch trading while I was at the Jamboree. That is why I occasionally check eBay and other sites to find patches at decent prices to fill in the council shoulder patch and Order of the Arrow patch collections. I recently found one auction on eBay which netted me a six patch set from the Old North State Council. The six patches have the same design but sport different color borders. I like this addition to my collection.
I have a question for you readers. Were there only six patches from this council, or were there others? Did the different color borders represent six troops sent or did they mean something different? Thanks for the help.