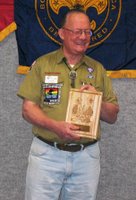 Eymard Orth, assistant scoutmaster of Melrose Boy Scout Troop 68, recently was recognized by Troop 68 for his twenty years of service. Eymard become an assistant scoutmaster when his son, Peter, was a member of the troop in 1988. Since then, Eymard has attended hundreds of troop meetings and weekend activities. He has not missed a week of summer camp in twenty years. Steve Borgerding, the troop scoutmaster, presented the plaque during a court of honor held on December 15, 2008. (Local Newspaper)
Eymard is quite an individual. He was never a Boy Scout himself, but when his youngest son joined Boy Scouting and he was asked to help out as an assistant scoutmaster he stepped up to the plate and (almost) never looked back. Even though he celebrates his 82nd birthday this year he still looks forward to going camping with the boys, something that other people his age think is crazy. But Eymard truely enjoys working with the boys and finds it to be quite rewarding. He has been a great leader of the troop and we look forward to the next twenty years of his tenure.
In addition to Scouting, Eymard is also very active in his local church, the MCCL, and the local Republican party. He and his wife tend a large garden during the summer months. They enjoy family outings which tend to be quite large with their ten children, and numorous grandchildren. Eymard recently wrote an auotbiography which has been quite popular locally.
Nearly two years ago, Eymard was interviewed by Buttons, the radical Boy Scout, during one of the troop's outings. You can view that interview by clicking this THIS LINK.
UPDATE: The local papers have also picked up this story, the Melrose Beacon.