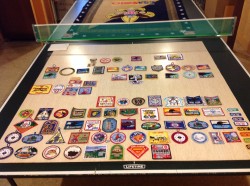 I recently completed my first Scouting patch blanket. I have received several positive comments about it already. One Scouter even wrote to say he may start his own after seeing the pictures of mine. I say, go for it. It is a great way to display the patches collected through the years. Much better than a notebook anyway. Unfortunately, my first blanket only displays patches collected to 1996. I have a lot more patches so it is time to think about creating a second blanket.
Today I began laying out the patches for that second blanket. The 4 foot by 4 foot piece of paneling I used to staple the patches to only went up to 2004, so I had to start looking around the house for last nine years worth of patches. You see, I did not have one nice place that I would put them after each outing. This could be interesting.
I began looking in the closet cabinet in my basement family room. I keep a lot of Scouting stuff in there. I did find quite a few in the various small totes but I knew there was more of them. I checked my briefcase, the bedroom, the office, and the kitchen. (I did actually find a couple in the kitchen.) I soon had enough patches to make a couple more rows.
I found a few Many Point Scout Camp patches but they did not have years shown on the design. Time to do a online search on the Many Point virtual patch collection. I discovered the years of all the patches on the site except for one. For some reason the site only shows patches to 2010. I hope that one patch is for 2012 because that is were I plan to place it.
No one will be playing table tennis at my house for awhile. As you can see in the picture, the second blanket is laying on half the table. The patches are laid out on the other half. Last time it took me nearly a year to create a patch blanket. The goal this time is to finish the new blanket by Christmas. This year. Or at least by the end of 2013.
I do have a question for those of you who have created your own patch blankets. Have you put your Scouting knots on your blanket?