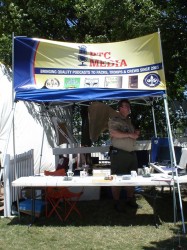 I was contacted tonight on Facebook by a fellow Scouter from Illinois. Kevin Miller was wondering what is going on with PTC Media these days. For those of you new to this blog, PTC Media was a website featuring a collection of Scouting related podcasts, featuring shows about Cub Scouting and Boy Scouting. At its peak the site featured six podcasts, with another one or two short lived shows. I created two podcasts, the Melrose Scout Productions Podcast (MSPP), which was a video show, and Around The Scouting Campfire, an audio program hosted by myself and Buttons, the radical Boy Scout. I also co-hosted the Leaders Campfire with Cubmaster Chris. The site can be found at http://www.ptcmedia.net/ .
Unfortunately, the answer to Kevin's question was that not much is happening these days at the website. Many of the podcast hosts have moved on to other things, and some are not involved with the Scouting program any longer. Fortunately, Cubmaster Chris, the caretaker of the PTC Media, has decided to keep the site up and running so people can still listen to or watch the many podcast episodes created during the last eight years. Many of them hold information that is still relevant to today's Scouting program. I still post a new video to the Melrose Scout Productions Podcast occasionally.
Kevin really liked the podcasts and PTC Media. He liked them so well that he made one of the points of his Wood Badge ticket to hold a Podcast Awareness Day featuring the shows found at PTC Media. And boy, did he go all out. In 2010 he created audio cd's of the shows, over a 100 for each of the main shows, and had a banner created for his booth. (See in the picture above.) He also created business cards, srtickers, half sheets, and full sheets to promote the shows. I am sure his efforts gave a nice boost to our downloads, and it was great to see someone who really appreciated our time and effort into creating the shows.
After a short online chat with Kevin this evening it almost made me feel guilty about not creating more podcast episodes on a regular schedule. I do still have a few videos to finish editing and post to MSPP. I have even thought about doing another episode or two for Around The Scouting Campfire. My idea was to actually record a couple stories as I tell them to the Boy Scouts around a campfire some night. (I should have recorded last Saturday's Purple Gorilla story.) I just don't know if people would like to download them and listen to them, if it would be worth my time and effort.
Kevin has given me permission to use his photos for this blog post. What do you think about his podcast promotion? I think it is awesome.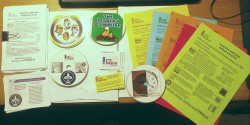 Click on the pictures for a full size version.