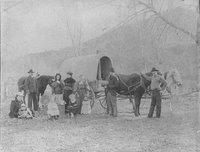 I do not know if you have heard or not, but Christmas will be here next week. It is only ten days away. Boy, am I glad I have all my Christmas shopping done and all the gift wrapping completed. Now I can kick back and relax, and maybe read a couple stories.
Speaking of stories, here are a couple Scouting stories that feature Christmas themes. I wrote about them last year, so I am not going to post them again. However, I will give you the links so that you can bring them up quickly.
The first story was written by a father of one of the Scouts who attended a Philmont trek in 1992. There was a contest at Santa Claus Camp and a few of us decided to enter it. Al wrote a great story. You can read it by clicking HERE. The article also includes the crew's Philmont Twelve days of Christmas.
The other story is one of my favorites about Christmas and Scouting. It was sent around the internet quite a bit last year. It is about a Boy Scout who learns about the true meaning of giving during the Christmas season. You can read it by clicking HERE.
Have you heard of any other Christmas Scouting stories. Let me know about them by contacting me through this blog. Thanks.