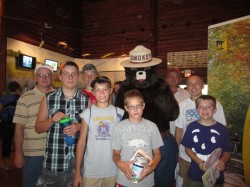 Six Boy Scouts of Melrose Troop 68, along with two adult Scout leaders, joined 170,000 other people on Saturday, August 24, at the great Minnesota Get Together, otherwise known as the State Fair. Despite the hot temperatures and the high humidity, the Scouts had a great time exploring the buildings, eating food on a stick, and experiencing the rides at the midway. The Scouts also made a quick stop at the Northern Star Council's Adventure spot, only to discover it was more designed for Cub Scouts than Boy Scouts. A short stop at Cabelas in Rogers was an extra bonus attraction.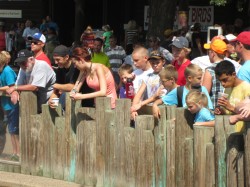 The Boy Scouts join other people in viewing the pond stocked with dozens of native fishes.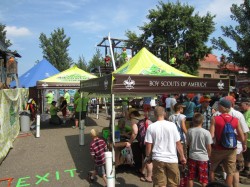 The Northern Star Council "Adventure Summit" was very popular with the Cub Scout age children. Our Boy Scouts were a little disappointed it was not meant for them.
Does your troop visit your state fair?

.