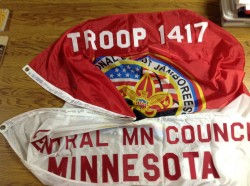 I was the scoutmaster for one of two troops the Central Minnesota Council sent to the 2001 National Jamboree at Fort A.P. Hill in Virginia. I had three wonderful assistant scoutmasters, a fantastic group of youth leaders, and a great group of Boy Scouts in Troop 1417. At the reunion gathering held a month after the Jamboree I told the parents that I never want to be a scoutmaster for another Jamboree troop again, because this troop set the bar so high and behaved so well that I felt I would never again get another batch of Scouts like this. Troop 1417 was nearly a perfect Boy Scout troop.
Scoutmaster Mike of Jamboree Troop 1418 and I received quite a surprise during that reunion gathering. The chairperson of the Jamboree committee came forward to speak to the Boy Scouts and their parents about the Jamboree experience, and to present Mike and I with a couple tokens of appreciation. The first was a nice looking plaque which now hangs on my wall with other Scouting honors. The other was the troop's flag used for the Jamboree.
Mike and I both glanced at each other when we were presented with the flags. I do not know if he expected it, but I did not. My first thought was "What am I going to do with this? It is huge!"  I thought it would be better to display it at the council office, or in the ceiling rafters of the Scout Shop. I have no place to hang something like this.
Twelve years have now passed since that reunion. To tell the truth, even though the flag is nicely folded in the tote that stores my Jamboree stuff, it is now probably my most prized part of the collection. After all, it is a one of a kind item. There is only one flag for Troop 1417 from the 2001 National Jamboree.
But you know what really adds value to this flag, at least in my eyes? Nearly every member of Troop 1417 signed their name along the white border on the right edge of the flag. I only have two items in my collection that are signed by the Scouts and troop leadership, the troop tee shirt (mentioned in a previous article) and the troop's flag. They are very special.
My question is this. Is it a tradition in your council for Jamboree troop members to sign the troop flag and present it to the scoutmasters of the troop?