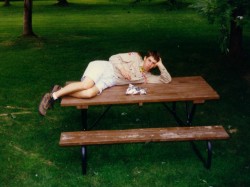 (The following article was written by Brad Kramer, an alumni of Melrose Boy Scout Troop 68. Brad was a member of the troop from 1995 to 1997. He earned the rank of Life Scout. It is the fourth of a series of guest articles written by former members of Troop 68.)
What I got out of Scouts.
I was in the Scouting program from the age of 8-18. It has made me who I am more than anything else in my youth. I can directly attribute some of my favorite jobs and adventures to my time as a Scout. After high school, I headed up to the Boundary Waters where I was a Dogsled and Canoe Guide/Outfitter. There is no doubt that the skills I learned in Scouts, whether it was camping, survival, leadership, or many other skills, were what landed me this dream job. Being a Dogsled Guide up in the Boundary Waters of Minnesota allowed me to run dogsled in the middle of the night with a close-knit group of guides and amazing dogs, with only the northern lights and stars on the horizon rather than city lights. The only thing that resembled smog was the breath of a living creature in the -40 degree temperature. The scenery was beyond amazing, and the memories are some of the fondest I've ever had.
My clients were people from all over the world who spent thousands of dollars on a vacation to do what I did every day. The skills I learned in Scouts taught me to tie any knot that was needed out in the wilderness, whether it was rigging a shelter, repairing a dog's harness, starting a fire in windy weather in temperatures so cold that water was frozen before it hit the fresh snow, or how to splint my wrist when I broke it on a canoe trip by myself three days into the wilderness in the crisp October weather. Scouting taught me how to dress for the wilderness so I could be comfortable all day long on an eight hour trip, whether I was on the back of the sled getting whipped with -60 windchill, or out front, sweating and hot, while breaking trail through waist deep snow.
In Scouting, I learned the value of community service, and taking pride in your community, as well as the camaraderie from being with others. Over the years, the skills and confidence from Scouting were directly used as a Firefighter and First Responder. All the first aid and CPR training prepared me for the First Responder program in college. In the years to come, I became involved in the community where I would apply my leadership and citizenship skills to the Constitution Party when I was my county's Vice-Chairman and acting Chairman. Currently, I am a member of my community's Chamber of Commerce, where I sit on the Business Education Partnership Committee and Government Affairs Committee. Learning compassion for animals and responsibility were ingrained in me in Scouting, and I used to volunteer for a horse rescue where I would help take care of abused and neglected horses.In my professional career, as a business manager, I have much of the leadership abilities I learned as a Scout to thank.
As a Boy Scout, I rose through the ranks from Assistant Patrol Leader, Patrol Leader, Assistant Senior Patrol Leader, and Senior Patrol Leader. My troop put me through Junior Leadership Training, where I was asked to come back the following year to teach others what I had learned. The skills I learned in these roles have followed me everywhere I go and prepared me to lead others.
As a Scout, we are taught to love our country and honor our heritage, taught to know our history, and respecting our flag is mandatory. Shortly after I graduated, when our country was attacked on 9-11, I enlisted in the military, and was part of the honor division in basic training. The self-discipline instilled in me as a Scout gave me the strength to march through endless drills, which were no more difficult than the miles we'd put on as Scouts at Philmont Scout Camp, where we'd march through 100+ degree temperatures for mile after mile over different terrain, and our bed was a tiny foam mat on the rocky ground, and our water was from creeks that had to be treated with iodine. To this day, I often think back to the many great memories from when I was 13 years old and experienced Philmont. Unfortunately, I was discharged from the Navy because of the hearing loss I've had since childhood, but I am proud of the many Scouts I've known over the years who have represented us well in our military, who served honorably and answered the call.
As I think back to Scouting, and some of the experiences I had, whether it was whitewater rafting, rock climbing, backpacking, or camping, going to Philmont in New Mexico, Many Point Scout Camp in northern Minnesota, or winter camping at Troop 68's own Watchamagumee, or just playing basketball with my fellow Scouts after a meeting, I have many fond memories. All the merit badges we were able to work on taught me a broad range of skills that I have used many times since, or expanded my horizons to interest me in new hobbies. The values that were taught to us as Scouts have helped me over the years to be a better person. Now, 15 years after I last wore the uniform, I can still recite as quickly from memory the Scout Law: A Scout is Trustworthy, Loyal, Helpful, Friendly, Courteous, Kind, Obedient, Cheerful, Thrifty, Brave, Clean, and Reverent.