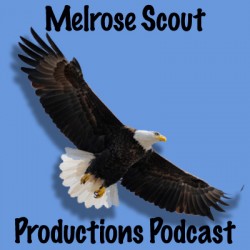 Nearly every spring in the past twenty years the Boy Scouts of Melrose Troop 68 have spent a weekend at Camp Watchamagumee, usually in May. The camp is actually privately owned forty acres found north of Melrose. The land owners have allowed the troop to clear out campsites and create our own camp setting. The site currently has three patrol sites, an adult leader site, a scoutcraft open area, a treehouse, and a troop campfire area. We camp near a small pond. A short hike from the campsites is an open field in which the troop has played softball, volleyball, and disc golf. It quickly became one of the troop's favorite camping sites.
A tradition has developed over the years, the annual Egg Drop Competition. Each Boy Scout, or team of Scouts, is given a raw egg. He must build a package for the egg usually only natural materials found around the camp. This package must protect the egg when it is dropped from various heights. The winner is the Scout who's egg survives the highest drop without breaking. The boys must use their imagination to create a package that will not only withstand the actually drops, but also cushion the egg to keep it from becoming scrambled. I have seen a lot of various packages over the years using a wide variety of materials from bark, grasses, moss, mud, and sticks. This year one Scout even used a cow pattie.
This post to the Melrose Scout Productions Podcast features the video taken during the 2013 Egg Drop Competition. Six Boy Scouts were part of the contest. An added feature to the rules this year was that the package must fit inside a plastic wash basin. Some boys did very well. Other did not make it past the first round. Watch the video to see who winds and how his package was created.
Oh, and since the new Star Trek movie had hit the theaters the same weekend as the outing I decided to use a Star Trek theme at the start of the video to introduce the Boy Scouts and their packages. Let me know what you think of it.
Click here to DOWNLOAD and watch this Podcast.
Subscribe to the Melrose Scout Productions Podcast
at http://feeds2.feedburner.com/melrosescoutingproductions
or through iTunes  (Don't forget to rate the show).
Leave a comment below, or at the iTunes store.