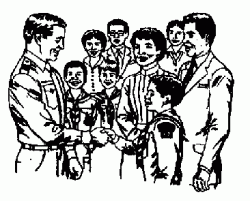 I do not know if you have ever read this poem but I thought you may enjoy it. It is a poem by Bill Chiappi about the adult Boy Scout leader. It is called "The Scouter". I happen to come across this many years ago. This might come in handy for that special event.
He hasn't much in worldly goods,
Yet he's richer than you know,
For he's chosen to be a Scouter
And his spirits are aglow.
He's just a Scouter, nothing more,
But he molds the lives of boys.
He teaches them how to do their best,
And he shares their many joys.
They work on badges, go on hikes,
Share campfires in the night.
They practice skills and follow laws,
And learn to do things right.
He watches them grow from boys to men,
And it makes it all worthwhile,
When they turn to him and say, "Gee Thanks!"
And their face wears a golden smile.