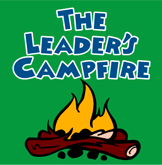 I received an invitation by email in August, 2007, to participate in a Scouting-related podcast called The Leader's Campfire. The subject of the podcast would be Webelos Transition, and would include five pack and troop leaders from around the country. It was fun to be a part of, and it was informative. It was great to meet other leaders from around the country. (You can listen to this episode by clicking HERE.)
Little did I realize what was to happen a few months later…
Cubmaster Chris and Mr. Bob, the hosts of The Leaders Campfire, did an excellent job of producing a nearly weekly podcast about Scouting subjects. Even though most of their topics were Cub Scout related, I enjoyed listening to the shows. I found it to be a way to keep track of what was going on in the world of Cub Scouting.
Toward the end of the year 2007, Mr. Bob decided to take some time off doing podcasting. Cubmaster Chris asked me if I would be willing to step into Bob's place for awhile. Chris thought it would be good to have the perspective of a scoutmaster (me) and a cubmaster (Chris) on the show, so I agreed to be a "guest" host.
Ten months later, I have found myself to be the regular co-host of The Leader's Campfire with Chris. It appears that Mr. Bob has retired from doing podcasts. Chris and I usually record two or three podcast episodes each month, usually on Wednesday evenings. Then Chris will take the recorded material, do some editing, add the opening and closing spots, and put in a message from one of the great sponsors of the show. The show is posted Tuesday evenings, and can be downloaded free through the PTC Media website or through the iTunes music store (under podcasts/Kids and Family).
It has been an interesting and fun year being a part of The Leader's Campfire. I have met many great Cub and Boy Scout leaders from around the country through the chatrooms, forums, and Skype. (My Skype nickname is stevejb68.) It has been a great way to share ideas and get a feel of how Scouting is doing throughout the country.
The best thing about being part of the podcast is working with Cubmaster Chris. Though I have never met him face to face, I feel like I have know him for years. He is very dedicated to his boys and to Scouting. He has the drive and energy that I had fifteen years ago, and I find that he helps to recharge my Scouting batteries. He has become a good friend.
Check out The Leader's Campfire yourself (http://www.leaderscampfire.com/), and listen to a few episodes. Let us know what you think about them. Is there a topic you think we should cover? You can write us and leave comments at the PTC Media forums (HERE). I hope to hear from you.
.