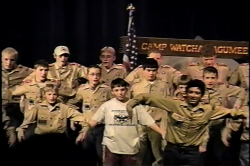 The Boy Scouts of Melrose Troop 68 used to be very good with performing campfire songs and skits. The troop looked forward to performing at camporees and summer camp campfire programs. There were many times we would take a popular skit or song, change it up a bit, and make it something new. Today's post to the Melrose Scout Productions Podcast demonstrates one example of that trait.
Our troop had been attending a week of camp at Many Point Scout Camp in northern Minnesota for a few years when we came up with the idea for a new song to perform. We wanted to do something that poked some fun at the camp, and something the campers could identify with. We picked the popular song by the Village People because everyone knew the tune to YMCA. We completely changed the lyrics and the actions and came up with our version of M.P.S.C.  The song was a hit when we performed it at the closing campfire.
This video features the Boy Scouts of Troop 68 performing this song during their 2000 Laughs For Lunch Show, held at the Melrose High School auditorium. So get out of that chair, stand up, and join the Scouts as they sing their version of M.P.S.C.
Click here to DOWNLOAD and watch this Podcast.
Subscribe to the Melrose Scout Productions Podcast at http://feeds2.feedburner.com/melrosescoutingproductions
or through iTunes  (and rate the show).
Don't forget to leave a comment below, or at the iTunes store.