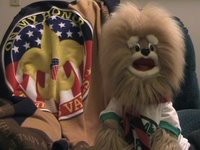 It is hard to believe, but this video is the 50th posting to the Melrose Scouting Productions Podcast! When I started doing this I never even considered making it this far, and I would not have if people would not watch the videos. I also would like to thank Bob, Chris, Jerry, and Dave for their help and support.
I wanted to do something special for this one. I knew it would have to include Buttons, the radical Boy Scout and mascot of the podcast. I also wanted it to be about Scouting, not just some jokes or skits. I have to thank the my troop for giving me the idea I used for this video. A couple weeks ago one of the Scouts read Lord Baden-Powell's farewell message. I wondered if Buttons could read that for the internet audience. I tried it, and I think it worked pretty well, but you will have to be the judge.
Lord Baden-Powell's message can also be read at my friend Jerry's blog, The Scoutmaster Minute.
I also wanted to do something extra for this 50th posting, so I made a second part to the video. Follow the directions found in the podcast to possibly win a DVD of Buttons' videos. (Yes, you will have to watch the video to find out what the directions are.) If a lot of people enter the contest I may even give out two DVD's. Good luck!
If you enjoy the videos, I would love hearing from you. Go to iTunes and leave a review for Melrose Scouting Productions Podcast. Or, go to PTC Media and leave a comment on the forums. Or drop me an email at webmaster @ melrosetroop68.org
Thanks for watching.
Click here to DOWNLOAD this Podcast
Subscribe to Melrose Scouting Productions Podcast through iTunes.
Check out the other Scouting podcasts at PTC Media.