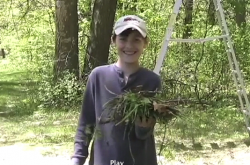 The Boy Scouts of Troop 68 have been spending a spring weekend at Camp Watchamagumee each year for over twenty years. Many years ago we held a contest during the outing that has since become a Watchamagumee tradition – The Egg Drop Competition. The contest is played individually or by teams; it seems to vary from year to year. Each player, or team, is given a raw egg. Using only natural materials found around the campsite they are to create a package that will protect the egg when the package is dropped. No man made materials are allowed to create the package. The winner of the competition is the one whose package protects the egg the longest as we drop it from higher and higher heights.
I video recorded the event in the spring of 2012. This post to the Melrose Scout Productions Podcast features that event. I am not going to give anything away but I will state the the winning package was thrown from the top of a step ladder onto a concrete patio block. Did the egg break? You will have to watch the video to discover that answer. (This video is about 20 minutes long.)
Click here to DOWNLOAD and watch this Podcast.
Watch it online at the Melrose Scout Productions Podcast channel at PTC Media.
Subscribe to Melrose Scout Productions Podcast through iTUNES  (and rate the show)
or at http://feeds2.feedburner.com/melrosescoutingproductions
Don't forget to leave a comment here, or at iTunes.