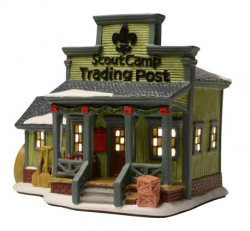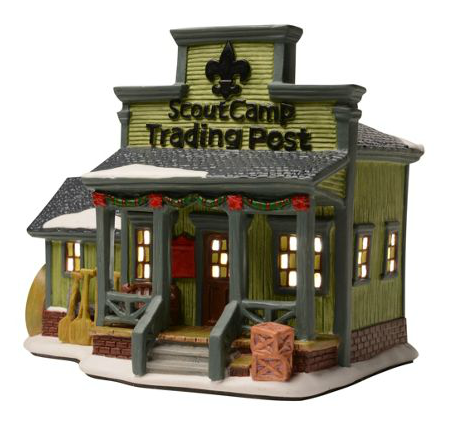 I wrote an article last month about the new collectable lighted miniature buildings being sold on the scoutstuff.com website. There were three pieces available: the Ranger's Cabin, the Trading Post, and the Church. I liked the looks of the ranger's cabin and the trading post, but I was not really impressed with the church.
A couple weeks later I noticed the ranger's cabin had been removed from the website. Boy, I thought, they must be sold out already. I wonder how many they made. It did not bother me because I did not plan to buy the pieces anyway.
Last Saturday, I called the council Scout Shop and just for the fun of it I asked if they still had a Ranger's Cabin. They did, and suddenly I had a change of mind. I decided I wanted the three pieces. I had the shop set the cabin aside and told them I would pick it up on Tuesday before the roundtable meeting.
When I arrived Tuesday, they had the Ranger's Cabin and the Church but they were out of the Trading Post buildings. They were trying to get more in so I bought the other two buildings. I could always buy the Trading Post online, I thought.
I checked the Scout Stuff website when I returned home and discovered the Trading Post was no longer available. Two of the three pieces were now sold out. I called the council Scout Shop Wednesday morning and was told that they were having difficulty finding more Trading Posts, but they were still trying. Two other people were also on they waiting list for the same piece.
Yesterday, Friday, I called the shop again and was told they still do not have an answer as to whether they will be receiving any more of the buildings. I explained that I would really like to have the three piece set. She understood, asked if I could give her another week, and told me that if she could not find any I could return the pieces I had bought.
Now the wait begins. Do I begin my lighted "Scouting Village" with all three pieces or do I return them and forget about starting a new collection? I guess I will have the answer next weekend.
Have you purchased any of the pieces? What do you think of them?