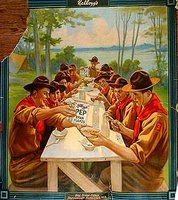 If you have been a Scouter for any length of time you probably enjoy looking through old Scouting magazines and books, or checking out old Scouting memorabilia. I know I do. In fact, I have a nice collection of old handbooks and fictional novels about Scouting. I even own several old rank patches and small toys.
If you share my love of old Scouting things you may enjoy a website called BoyScoutStuff.com. The site features pictures of Boy Scouts of America memorabilia from 1910 through 1919. Galleries include pictures of old handbooks, Boy's Life magazines, awards, patches, games, equipment and more.
My favorite gallery features advertising for various products. It seems that back then some companies used the Boy Scouts to promote their products, something almost unheard of in today's organization. Advertised products included toothpaste, breakfast cereals, shoes, cameras, and soap. I was surprised to see Boy Scouts used in advertising promoting ammunition and cigars. I guess things were a little different back then, huh?