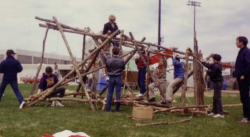 The year was 1986. It was a good year for the Melrose Boy Scout Troop 68 program. There was a large membership for Troop 68, and good turnout for the monthly activities and courts of honor. Winter camp, a primitive campout, the Ripley Rendezvous, a Scout-O-Rama, and a local camporee were just some of the events. It was the first year we sent a crew to Philmont Scout Ranch. I recently finished a video featuring pictures from the year which I hope to share with the troop alumni. I thought you might enjoy traveling back in time also and see what the troop program looked like in 1986.
Were you a Boy Scout in 1986?
Click here to DOWNLOAD and watch this Podcast.
Or watch it online at the Melrose Scout Productions Podcast channel at PTC Media.
Subscribe to Melrose Scout Productions Podcast through iTUNES  (and rate the show)
or at http://feeds2.feedburner.com/melrosescoutingproductions