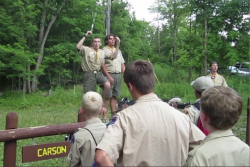 I may not have spent the week with The Boy Scouts of Troop 68 at Many Point Scout Camp this summer, but I did spend Friday with them, and I had a great time. Of course, when it came to meal time, I had to stand in line with the troop and wait to be dismissed to the dining hall with the Scouts. The staff always leads the campers in a song before the meal. This time the leaders picked their "faaaavorite song", My Dog Rover. It is a simple to learn song that enjoys pun filled humor. I am sure you have heard it before at a camp somewhere, but if you have not here is a new song that your troop can add to its list a fun campfire songs.
What pun-named dogs would you add to this song?
Click here to DOWNLOAD and watch this Podcast.
Or watch it online at the Melrose Scout Productions Podcast channel at PTC Media.
Subscribe to Melrose Scout Productions Podcast through iTUNES  (and rate the show)
or at http://feeds2.feedburner.com/melrosescoutingproductions
Leave feedback here, at iTunes, or on the forums at PTC Media.