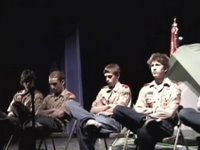 "What time is it?", is a question asked in a song during the hit television movie High School Musical 2. But in today's addition to the Melrose Scouting Productions Podcast the Boy Scouts of Melrose ask the question, "Is it time yet?"
This is actually an easy skit for any Scout troop to perform, but it does take a little practice to get the timing done well. The only props needed are a chair for each participant, or a couple benches placed before the skit begins. When the troop first saw this skit performed at summer camp it was done with 5 or six people. We decided to take it a little further when the troop performed it during one of their Laughs For Lunch Shows.
I like this skit. It builds up the anticipation in the audience, and then has a punchline that is unspoken. There are not very many skits done in that manner. Have you ever scene this skit performed at a camp you attended?
Please leave a comment here using the link below, at the iTunes Music Store, or at the PTC Media forums. Or drop me an email at webmaster@melrosetroop68.org
Click here to DOWNLOAD this Podcast
Subscribe to Melrose Scouting Productions Podcast through iTunes.
or at http://feeds.feedburner.com/melrosescoutingproductions
Check out the other Scouting podcasts at PTC Media.