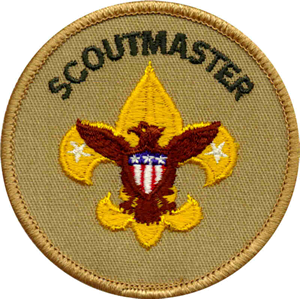 Boy Scout Troop 68 has a problem. We are looking for someone to become the scoutmaster. Unfortunately, no one seems interested in the position at this time. Having a small troop does not seem to be helping matters. Being in a community that has not been interested in having their boys in the Scout program has definitely made it tougher. (Only three of our eight Boy Scouts live in town.)
When I retired from the position after being the troop's scoutmaster for 30 years I had a feeling it would be tough finding someone to take over. Luckily, one father stepped up to the plate. After five months he has decided to step down. I had a hunch this might happen. Why? Because he is also the Cubmaster of our Pack. Holding two "full time" volunteer Scouting positions would be tough for anyone to handle. Add to this that his sons are heavy into sports and extracurricular activities, and that he owns his own business, I knew it would be a challenge for him. But I have to give him credit. He gave it a good try. He did a good job. But there just was not enough time in the week to do it all, and do it well. He continues to serve as the Cubmaster.
So, the troop is once again looking for a scoutmaster. I have received several "hints" that a few people in the troop (Scouts and parents) would like to see me return to the position. I have no plans to do so. I am worn out and burned out. I actually began to hate going to Scout functions during my last year as scoutmaster. I do not want to return to the routine of weekly meetings and monthly activities. While I really enjoy working with the boys I do not want the responsibility any longer. I like my new position on the committee.
Sometimes I think thirty years was too long to be the scoutmaster. People got to the point where they would just assume that I would take care of things, and I usually did. People are now scared of the role. I am not quite sure why they should be. I took the position when I was a "wet behind the ear" 21 year old. I did okay with almost no experience. I had a committee that supported me. I was willing to take training, and that made a huge difference.
We have the month of June pretty well covered. I guess I will be the acting scoutmaster. Next month is summer camp, so the troop will not have any meetings. But by August we need to have someone step up to the plate. If we don't, the council could get antsy and apply pressure to find someone quick. Or else. Troop 68 went through that in 1981. We went through four men as scoutmaster that year. (I was the fourth.) I would hate to see that happen to the troop again. I would really hate to see the troop lose its charter because no one was willing to take the position.
It would be sad to see the troop fold after 32 continuous years.