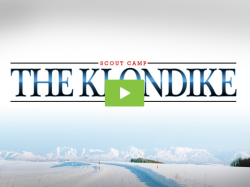 FOR IMMEDIATE RELEASE – "New Feature Film Aims to Pay Tribute to Scout Leaders" 
Utah based filmmaker Garrett Batty has announced development of SCOUT CAMP: THE KLONDIKE, a feature film tribute to Scout Leaders.  Principal photography is set to begin in October 2012.
When Batty wrote and directed SCOUT CAMP: THE MOVIE, he had no idea the reception the film would receive.  3 years later, the ultra-independent movie has become a must-see among scouting families, screening at the National Jamboree, and at scouting events all over the country.  "The reception has been wonderful, and the people I have met through the process are remarkable," Batty says, as he considers those whom he has met over the past 3 years touring with the film.
Scout Camp: The Klondike Screenwriter Jake Van Wagoner with Director Garrett Batty film a fundraising campaign for their next film.
It's that spark that has ignited a fundraising campaign for a brand new scouting movie, this time with a focus on Scout Masters. "Scout leaders deserve their story to be told," Batty explains. "The time, energy and sacrifices that they make for scouts, and the little recognition that they get– There are some wonderfully relatable stories that would show a positive side of scouting that is not often shared the media." Working with screenwriting partner and fellow eagle scout Jake Van Wagoner, they've come up with SCOUT CAMP: THE KLONDIKE, a full length feature about winter camping, that will finally give hardworking scout masters their time in the sun– or snow. A funding campaign for the independent film has recently been launched on Kickstarter.com, a site that promotes crowdsourcing to launch creative projects.
"We chose to go to kickstarter as a way to get scouts involved with the film," explains screenwriter Jake Van Wagoner. Batty joins in, "We're letting the audience get behind this film BEFORE it is made. As a thanks, we'll put their name in the credits, or send them a limited edition patch, or even come be an extra in the film. The rewards are pretty amazing…" The kickstarter campaign allows anyone to pledge money to the project, from $10 or more, with different incentives given based on the amount you pledge. However, the film will only be made if the kickstarter campaign gets completely funded before it expires– in this case, May 24th. It's an incredibly short amout of time to raise enough money to get the film started. "It's really an urgent campaign, so we hope the audience will make a pledge, then spread the word."
With a complete script, a ready crew, and 3 years of gathering scout stories from all over the country, they now look to take the film into production. More information on SCOUT CAMP: THE KLONDIKE can be found at www.scoutcampthemovie.com or find Scout Camp on Facebook.