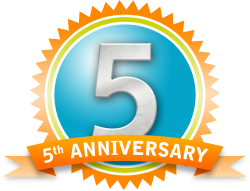 Can it be? Has it already been five years? I guess is has. On April 4th, 2007, I posted the first video to the Melrose Scout Productions podcast.
I began the podcast because I had a number of Scouting related videos to share. Podcasting was still fairly new at the time, and there was not a lot of Scouting videos online, like there is now. Even the B.S.A. had not embraced podcasting. (Some would argue they still have not.) I thought there may be a small niche of viewers that would like to see my videos.
The first two videos of the Melrose Scout Productions podcast featured a puppet called Buttons, the radical Boy Scout. The next three videos took the viewer along on a couple of the troop's camping trips. There are currently 115 videos featuring songs, skits, Cub Scout and Boy Scout activities, and interviews. There are also some slideshows that were shown at Eagle courts of honor. I guess you could say there is a pretty good variety.
When I started the podcast it had a slightly different name: Melrose Scouting Productions Podcast. A couple years ago I needed to change Scouting to Scout because the B.S.A. sent a note that they owned the trademark to "Scouting", but oddly not "Scout". Whatever. If I was to rename it today I would probably call it the Melrose Scout Video Podcast.
Now that I have retired as the scoutmaster of Boy Scout Troop 68, I questioned how much longer I could keep the podcast going. Well, I have no plans to quit yet. I am still a member of the troop committee so I will still be attending some of the outings. I also have a lot of video tape sitting next to the computer waiting to be edited. I have a feeling that the Melrose Scout Productions Podcast will be around for at least another year or two.
I hope to have enjoyed the podcast and videos. Which ones have been your favorites? Which ones do you not care for? Leave a comment and let us know.