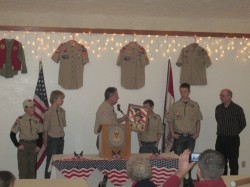 You have been reading about it in the blog. Now you can watch it happen. This post to the Melrose Scout Productions Podcast features the first of four videos taken from the retirement party for Scoutmaster Steve who stepped down after 30 years of service to Boy Scout Troop 68.
This video features the district executive presenting Steve with his last leader's knot earned as a scoutmaster, a speech from his assistant scoutmaster of 24 years, and a special presentation from the new scoutmaster and the Boy Scouts. The video is about 18 minutes long.
Click here to DOWNLOAD and watch this Podcast.
Or watch it online at the Melrose Scout Productions Podcast channel at PTC Media.
Subscribe to Melrose Scout Productions Podcast through iTUNES (and rate the show)
or at http://feeds2.feedburner.com/melrosescoutingproductions
Leave feedback here, at iTunes.