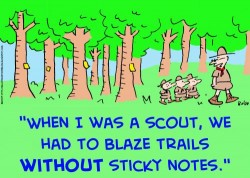 I guess you may now call me Scouter Steve, instead of Scoutmaster Steve. As the new year began I stepped down from the position I held for over thirty years. I am now a committee member. The troop treasurer, to be exact. It is a job with which I feel comfortable accepting. It is a job that I am familiar with even though I have never balanced the troop's checkbook. After all, if you a scoutmaster for three decades you have a pretty good idea of the income and expenses of operating a Boy Scout troop.
Tonight was the first troop meeting of the year. The first troop meeting for the new scoutmaster. I did not attend the meeting. I thought it best to stay away, to let the scoutmaster sit in what was my usual spot (or maybe he chose a new spot), to let the Boy Scouts know that, yes, I did retire. And to let everyone start the year without me being there. The Boy Scouts know what to do. Eymard, my assistant scoutmaster for the last 24 years, was there to help Scoutmaster Mark if he needed any.
Was it easy staying at home? Yes and no. I wanted to go to see how things would work out, but I knew that if I went to the meeting it would affect how things would turn out. Does that make sense? I stayed at home and watch an episode of the tenth season of Smallville on dvd. (Yes, I am still a bit of a nerd. I did not give that up with the first of the year.)
It is now 8:30. The troop meeting has been over for thirty minutes. I did not receive a phone call asking for assistance. No one stopped by after the meeting to complain about anything, or to tell me that things fell apart. In other words, I think the meeting must have gone well. The local Scouting world did not come to an end. The troop got along without me. Life goes on.
Now, if you will excuse me, I have to make a phone call to find out how things really went tonight!
Happy Scouting everyone!