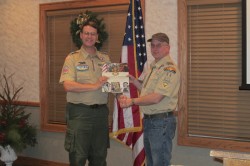 The monthly roundtable is a meeting for Scout leaders to learn new skills, receive information, and have fun with friends. Sometimes special presentations are made. During this month's Scenic district roundtable the district executive took a moment to recognize a Boy Scout leader. This leader is about to step down at the end of the year after 30 years of being a scoutmaster for Troop 68 in Melrose. The video was recorded on an iPod by one of the Scouters in attendance.
Click here to DOWNLOAD and watch this Podcast.
Or watch it online at the Melrose Scout Productions Podcast channel at PTC Media.
Subscribe to Melrose Scout Productions Podcast through iTunes (and rate the show)
or at http://feeds2.feedburner.com/melrosescoutingproductions
Leave feedback here, at iTunes.