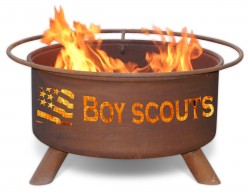 In 1996, following a September court of honor, the troop surprised me with a little ceremony for the fifteenth anniversary of being the scoutmaster of Troop 68. After a few speeches by committee members and Boy Scouts I was presented with a book of letters from former and current Scouts, and from some of the parents. For some reason I was a little nostalgic tonight so I pulled out that book and looked through it. I had to smile to myself when reading some of the letters from the younger Boy Scouts. A few memories were brought back when I read the letters from the former troop members.
One of the letters stuck out in the way that it was written. It was a poem. It covered so much of this young man's years as a Boy Scout of Troop 68, including times he worked with me on film productions at Mel-TV and the times we played a little roll playing game you may know. I could tell he spent some time trying to get things in this poem just right. Here is that poem:
Steve, Scoutmaster, Film Director, and Friend.
Here is a few words about you and Scouting,
It was fun going to movies in your gray Citation
and messing around waiting at the Cimmerron train station.
Bobby's Biking Blunders and Warning of the Ring,
All those campfires we would act out skits and sing.
Monday night meetings at the Jaycee park,
and in St. Mary's gym in the winter when it got dark.
British Bulldogs, Dodgeball, and Capture the Flag too,
it was rough at times but we managed to pull through.
Playing D&D and eating snacks till the wee hours of the night,
Climbing Mount Baldy at Philmont sure was a sight.
From Star Trekking across the universe
to selling breakfast tickets. It could be worse.
Looking back, I sure am glad
at all the exciting adventures we have had.
Without looking too far it is easy to see
that "Watchamagumee is the camp for me".
I still try to do a good turn daily.
Being prepared has always helped me.
As for pushups… Let's just say…
I don't swear that much anyway.
Thanks for everything and all the memories.
Happy 15th year of Scouting and a good job.
Josh