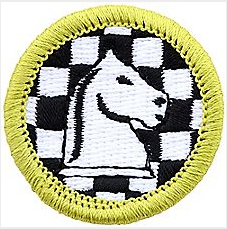 The Boy Scouts of America has a new merit badge. Chess anyone? That is correct. You may now earn the Chess Merit Badge as of Saturday, September 10. According to the B.S.A. Supply Line, "The USCF (United States Chess Federation) provided the primary contributing writers for the Merit Badge pamphlet. They will be helping to promote the badge through communications with the Chess delegate teams (similar to BSA's National Committees and Boards) and e-mail blasts, plus website and "tournament news" announcements."
When I first heard about this new merit badge, I was a little skeptical about what it could include for requirements. Maybe some history of the game. A little about strategies. And of course, how to play a game of chess. Now that the merit badge requirements have been posted (see http://meritbadge.org/wiki/index.php/Chess ) I have come to the conclusion that this could be a great merit badge for those Boy Scouts who enjoy playing the game, and may be a good tool to introduce new boys to the game.
I think any Boy Scout who earns this merit badge will have to spend some time learning more about chess. A Scout will not only have to know how to play but will also need to know history, terminology, strategies, and how to score. I would have to do some studying to earn this badge myself, and I have played the game since I was a kid. I have thought about becoming a councilor, but I would have to get a merit badge book and read it before working with any Scouts.
Take a look at the requirements at the link posted earlier in the post, and let me know what you think of the Chess Merit badge.