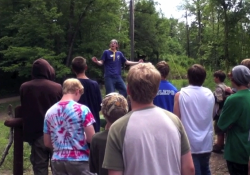 What do Jack and Jill, Mother Hubert, Spiderman, Justin Bieber, Barney, Lady Gaga, Chuck Norris, Rebecca Black, Bob the Builder, and Barbie have in common? They are all part of the fun one afternoon as the Boy Scouts of Buckskin Camp at Many Point Scout Camp sing Throw Them Out The Window before entering the dining hall for lunch. Bob, the dining hall guy, did a great job of leading the boys in this loud and hilarious rendition of this campfire favorite. It is the next video of the Melrose Scout Productions Podcast. Just see if you can watch this and not walk away without humming this song.
Click here to DOWNLOAD and watch this Podcast.
Or watch it online at the Melrose Scout Productions Podcast channel at PTC Media.
Subscribe to Melrose Scout Productions Podcast through iTunes (and rate the show)
or at http://feeds2.feedburner.com/melrosescoutingproductions
Leave feedback here, at iTunes, or on the forums at PTC Media.
What was your favorite song at summer camp this year?