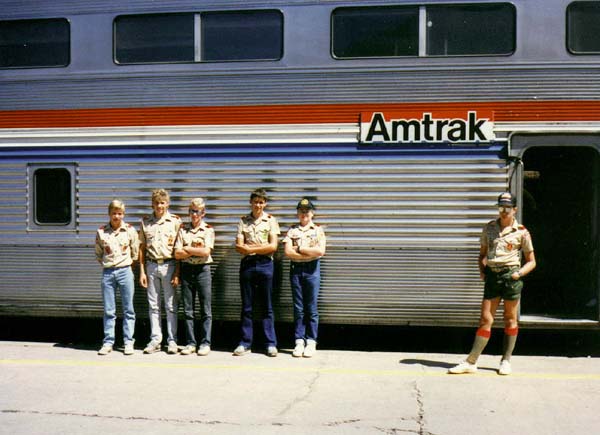 In 1986, The Boy Scouts of Melrose Troop 68 went to Philmont Scout Ranch in New Mexico for the first time, but it was a trip that almost did not happen. Here is part 2 of what happened and the problems that needed to be overcome. (Taken from my journal of the adventure.)
Only one major item was left to be dealt with: transportation. Airlines were too expensive. If we took a vehicle, and it broke down, we would miss part of the trek. This problem took us several months to solve. Sam, an assistant scoutmaster, came up with an answer. He would borrow his friend's camper, bring us to Philmont, take his family on a vacation into Colorado while we were on the trek, and then bring us home again. That sounded great! Our troubles were over, or so we thought.
Actually, they were just beginning.
Summer arrived, and Gerry (dad) decided he would like to go along on the trip. I had mixed feelings about this news. My first reaction was "why?" He earlier said he didn't have time to go. His wedding anniversary was at that time. All of a sudden he had time to go along. I couldn't understand it. My second thought was that now I would not be the only adult with the Scouts. I had planned to spend with the boys, just me and them. I felt like he was intruding. But then I starting to think a bit more. I would not be the only adult. That was not such a bad idea. What if something would happen to me on the trail. Another adult could come in quite handy.
Now, our number had risen to a crew of eight. Add Sam, Betty, and Heather Schnell and the camper we had planned to take was no longer able to take all of us and the gear. Gerry offered to drive his car to carry the extra gear. It was shorty after this that we found out that Betty could not get her vacation at that time. That meant no camper. That was strike one. The search began for a rental station wagon, or hopefully a van. The committee members began to search. Car rental outlets were called and all of them wanted more then we could pay.
In late June, Gerry checked with William's Busing in Freeport. They told him they had a van available for rent at a very reasonable price. A few days later they called Gerry so say that they had sold that one but had another we could use. As it turned out, this second van was not road worthy for the long trip that we planned to take. So here we were, three weeks before we were to leave, and we still did not have a way down there. Strike two! I told myself not to worry about it. The committee would take care of it. Besides, I was getting ready to take eleven Scouts to Wisconsin for summer camp. Nope, I wasn't going to worry about it.
I wish I had.
While I was gone to camp, Gerry, the troop's outdoor committee member, who had been doing a lot of checking around to find transportation, had gone to a national guard's camp for two weeks. While the two of us were gone his wife and my committee chairman had a bit of an argument on the phone while talking about the transportation problem. It seems that both of them said something to the other that should not have been said.
The first thing I heard about Philmont when I got back from camp was that we were going to New Mexico by train. The second thing was that there had been some serious bear attacks at Philmont. Then I was told about the argument. I called the troop chairman, Mike. I also talked to Gerry when he returned. Things didn't sound very good. Each was angry at the other. This was the first time two committee members had had such an argument. Luckily, Mike had called Gerry and the two of them mended things pretty well. Things still did not feel right though. I could still detect a bit of friction between them.
Two things had changed in the game plans due to that fateful call. Gerry (dad) would no longer be going on the trip. He did not want to attend any longer. I got the feeling after speaking to him that he felt caught in the middle and wouldn't feel comfortable with Jeff, Mike's son, who would also be going on the trip. It took a few days, but Gerry (dad) and I finally convinced Gerry (son) to go along and not leave this opportunity pass him by.
We may have kept Gerry, but we still lost one Scout from the roster. I received a call during my first day back at work after summer camp. It was Dave, Chris; father. He asked me to stop by his house on my way home. No reason was given over the phone to cause me any alarm.
Dave and Chris met me by the garage when I arrived. Dave informed me that Chris would not be attending the trek and could no longer hold the office of senior patrol leader. In fact, Chris would probably be dropping from the Scout troop. He then let Chris tell me why. All he said was, "I got caught shoplifting."
I didn't know what to say. I agreed with Dave that Chris should step down as senior patrol leader. I was undecided as to whether we should kick him out the the troop or not. I would have to think about it. As for Chris going along to Philmont? I felt that was something the family would have to decide. Besides, at that moment I agreed with Chris' father.
Our group was done to six, five Scouts and myself. (Keep in mind that this was before the BSA had instituted the two deep leadership policy that they now have.) Our transportation was arranged. Our fees were paid. It looked like we were ready to go. We had one meeting to check over the gear and one to discover what it would be like to climb up hills with full packs.
All we had left to do was wait. We could handle that.