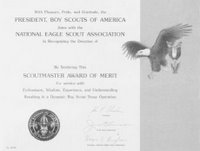 Are you a committee member or a committee chairman of a Boy Scout Troop? Do you have a scoutmaster who has been doing an outstanding job? Is he trained? Are most of the boys in your troop First Class Rank or higher? If your scoutmaster has been performing well then you owe it to him to look into recognizing him with the Scoutmaster Award of Merit which is presented to deserving scoutmasters through the National Eagle Scout Association.
Here are the Requirements:
(The nominee need not be an Eagle Scout.)
• Be registered as Scoutmaster and have served in that position for at least 18 months.
• The unit must have achieved the Quality Unit Award at least once during the Scoutmaster's tenure.
• Must have completed Boy Scout Leader Fast Start and Scoutmastership Fundamentals (or equivalent).
• Must have a record of proper use of the Boy Scout advancement program, resulting in a majority of his Boy Scouts attaining the First Class rank.
• Nominee must have a record of:
o Development of boy leadership through the patrol method
o Positive relations with the troop's chartered organization
o Extensive outdoor program including strong summer camp attendance
o Positive image of Scouting in the community
o Troop operation that attracts and retains Boy Scouts.
Procedure:
The chairman of the troop committee has the responsibility of nominating the Scoutmaster on behalf of the patrol leader's council and the troop committee. The nomination is certified by the unit commissioner and forwarded to the local council. Approval authority lies with the Scout executive.
For more information and an application you can check HERE on the NESA site.