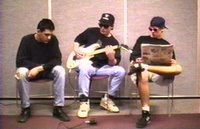 After a few days of thought, I have decided to leave the G rated world of Buttons and Boy Scouts skits behind with this podcast post, and enter the PG world music. Oh, do not worry, there will not be any Guns & Roses music or rap nonsense here. What I offer in this podcast is an original song by the Boy Scouts of Troop 68.
This video is of three older Scouts of Troop 68 in 1992, taken from a television show made by the troop for our local community access station. The Scout playing the guitar (he earned the rank of Eagle, by the way) wrote the melody. I wrote the lyrics. The song contains three verses with dark undertones. The first verse is about a pathetic dog. The second is of a boyfriend trying to please his girlfriend. The third is about a stray animal following a person home. I would suggest you listen to it before allowing your Cub Scout aged son to listen to it. The song is dark, but somewhat comical. It also might stick in your mind for awhile.
The song does not contain any bad language. This is a Scouting podcast, after all. I just wanted to try something different this time. I hope you enjoy it.
I like to read your comments about this podcast. You can leave one here, or at the PTC media forums. If you leave a comment at the iTunes Music Store you will help the Melrose Scouting Productions Podcast climb higher in the ratings.
Download Podcast
Subscribe to MSPP through iTunes.