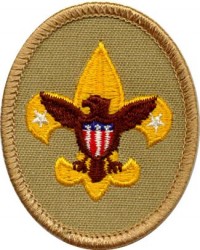 I usually get a bit irritated when only three of the ten members of the troop show up for a troop meeting, but tonight it worked out very well. It was a true boy run meeting.
The boys in attendance were the assistant senior patrol leader and the two newest boys. After the opening, the ASPL discussed the points of the Safe Swim Defense and Safety Afloat. The new boys had a couple requirements left to finish their Tenderfoot Rank so he worked with them to complete the rank.
Eymard, the troop's assistant scoutmaster, took the new boys to one side of the park shelter for their Tenderfoot scoutmaster conference. I sat down with the ASPL to review his upcoming Eagle service project. The boys then played a few holes of disc golf, did some planning for the menu for this month's outing, and closed the meeting.
I was proud of the boys for what they were able to accomplish during the meeting. I look forward to Tuesday night when two Boy Scouts attend the committee meeting for their Tenderfoot board of reviews.