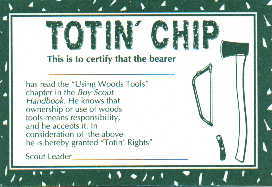 Safety first! That is the motto of Scout leaders as we take the boys into the outdoors. The BSA has plenty of rules, regulations, and guidelines to follow as we head into the woods. One guideline is for the Scouts to earn their Totin Chip card before they use pocket knives, axes, hatchets, and saws. I agree. Troop 68 has used the Totin Chip nearly since the troop started in December of 1979. We take safety seriously and so far, knock on wood, we have had very few injuries during the last three decades.
Think you know your Totin Chip safety? Check it out! Take the test at the Melrose Troop 68 site and see how you do. You will find it HERE.
Take the test and then check your answers. No cheating! Let me know what you think of it, and if you are not shy, post your score for others to beat by posting a comment to this blog. Have fun.