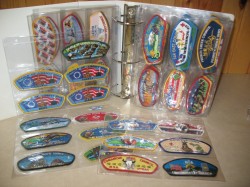 Patches, patches, and more patches. I have quite a few patches. I have already written about my collection of 2001 National Jamboree council shoulder patches, and the collection of Order of the Arrow lodge patches. Add these two together and you may get close to how many patches are in my regular Council Shoulder Patch (CSP) collection, the subject of today's Memorabilia Monday.
I began collecting CSP's shortly after attending a scoutmaster training session at Philmont Scout Ranch in 1984. It was during that conference that I was introduced to the world of patch trading. Unfortunately, I did not bring along any patches to trade, but I have made an effort to bring patches to any other national event since then. Patch trading offers a great opportunity to meet people from around the country, and even from other nations.
The picture shows a small part of the collection. I am sure the collection could be much larger, but I am still a shy guy and the opportunities to trade have been few and far between. Sometimes, If I happen to drive by a council office I will stop by and but a patch or two. You could say I trade currency for a patch at those moments. I would guess that the collection currently has over 130 patches, including every Central Minnesota Council patch variation since 1980. (I think.) This does not include the Jamboree patches or Order of the Arrow patches.
Do you collect council shoulder patches? How many do you have? Do you have any that have a special place in your collection?
100 Days of Scouting: Day 56.