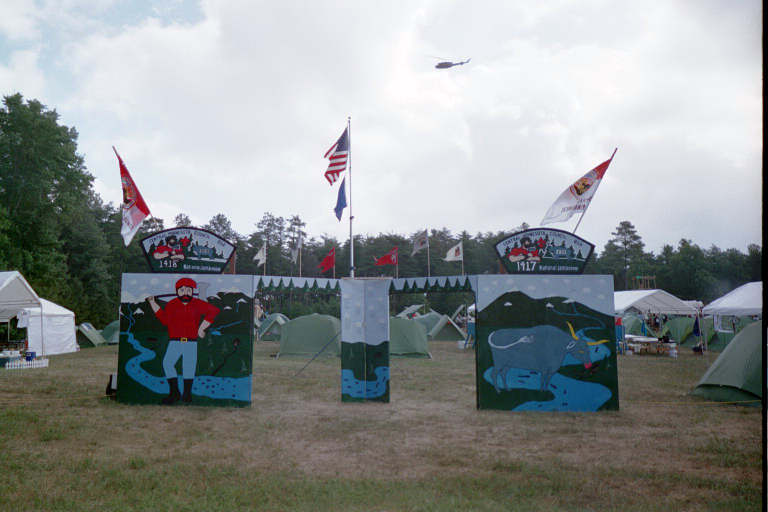 The next National Jamboree is only two and one half years away! It is time to start thinking about whether or not I intend to attend as an adult leader.
My decision will be based on the Boy Scouts of my troop. If several of them decide to attend then I will apply to be one of the troop leaders. If they don't, then I won't. But I think it would be great to attend another Jamboree.
I was the scoutmaster of Troop 1417 during the 2001 National Jamboree. I participated in a lot of meetings to prepare for that trip. But it was worth it. I was lucky to have a great team of assistant scoutmasters and junior leaders. I was also blessed to have a great group of Boy Scouts in my Jambo troop. Things went so well that during the reunion meeting held a few weeks after returning from the trip, I told the parents that I never want to attend another Jamboree again. The Scouts and leaders of Troop 1417 set the bar so high that I was sure I would never have another troop as good as this one.
Well, several years have now gone by and the itch to attend another Jamboree needs scratching. Of course, this being the Jamboree celebrating the 100th anniversary of the Boy Scouts of America is just one more reason to attend.
As far as I know, the Central Minnesota Council has not formed a Jamboree committee yet. I hope they do soon. I know it takes nearly two years to prepare for a trip of this magnitude. I would expect the transportation to be one of the biggest issues.
In 2001, the council sent two troops to the Jamboree. In 2005, the council was able to send three troops to Virginia, which was nearly ten percent of the Boy Scouts in our council. (We are not a large council.) It would be great to see our council send three troops in 2010. Or even four troops. Of course, the problem could be finding enough adults to accompany the troops. Just one more reason for the council to get started early.
The 2010 National Jamboree promises to be the biggest event in the BSA's history. I think it would be great to be one small part of it. Now, I just have to convince my Boy Scouts.