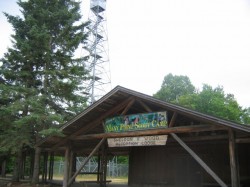 In two weeks I will be at Many Point Scout Camp, once again spending my summer vacation with the Boy Scouts. Do I mind? Not usually. It can a fun and sometimes interesting experience.
This will be the 25th year I will spend my summer vacation with the Scouts. I have done it for so long that it just would not feel like summer without at least one week with the Scouts.
Sometimes I would spend the week with the boys at summer camp. In the 1980's, we would go to Crow Wing Scout Reservation, Tomahawk Scout Camp, or Many Point Scout Camp. Now that Crow Wing has been closed and sold off the troop has made a tradition of attending Many Point.
Then there are the years when a high adventure trip gets in the way of attending summer camp. I have been to the Charles Sommers Canoe Base in Minnesota, the High Knoll Trail of Virginia, and the 2001 National Jamboree. Oh, I better not forget the five times I participated in a trek at Philmont Scout Ranch.
Of course, if I were married and had a family I do not think I would, or could, have attended all these outings. I would think the wife might have some input into how I would spend my summer vacations.