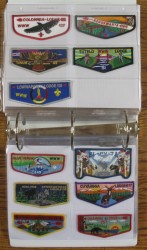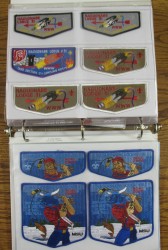 If you have been following me on this blog, you know I like to collect Scouting patches. On this Memorabilia Monday I would like to present my collection of Order of the Arrow lodge patches. Of course, I am not going to show the whole collection. I will highlight just a few of them.
I began collecting OA patches shortly after going through my Ordeal in the mid 1980's. I belong to the Naguonabe Lodge of the Central Minnesota Council. Collecting patches is somewhat of a challenge for me because my lodge frowns upon trading our lodge patches. Of course, this makes them highly tradable since there are very few Scouts within the lodge that will trade them, including me. Luckily, the lodge does design special "tradable" lodge patches for special activities like National Jamborees and Conclaves.
My collection includes regular Order of the Arrow lodge patches from across the country and special National Jamboree patches from the 2001 National Jamboree. (I was the scoutmaster of one of the two council troops that attended that year.) The collection has been growing slowly. Usually, I only get to add a few patches a year. But grow it does. Someday, maybe I will have a large collection to fill a couple three ring binders. Time will tell.
100 Days of Scouting: Day 28 .