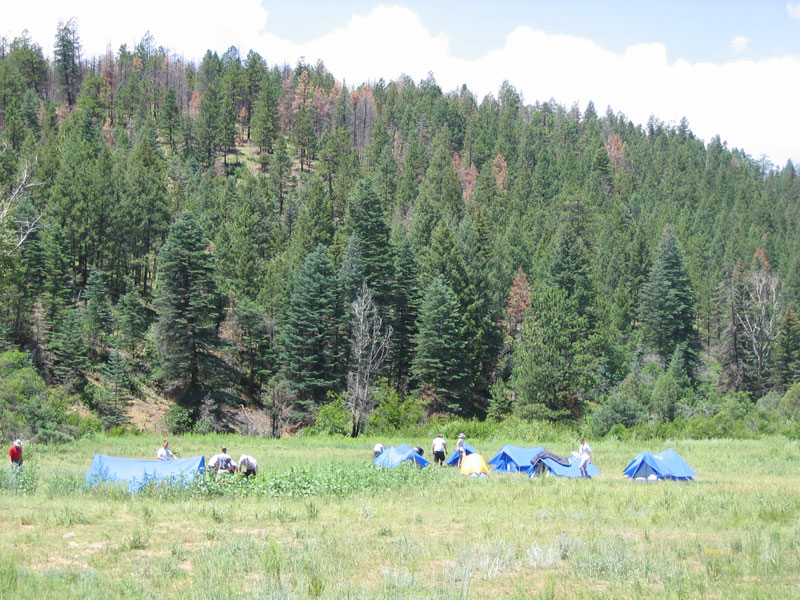 How many of your troop members know the Outdoor Code? How many of you adult troop leaders know it by memory? I think the Outdoor Code is an important part of Scouting that sometimes get overlooked.
As an American, I will do my best to be clean in my outdoor manners, to be careful with fire, to be considerate in the outdoors, and to be conservation minded.
The four c's of the Outdoor code are great guides for camping anywhere, whether you are in a campground or
a back country wilderness area. Scouting is about keeping our country and campgrounds clean from trash and graffiti. Campfire safety is a priority. Scouts should be considerate of not only other campers but also the wildlife that call the woodlands their home. Scouts and leaders should always be thinking of conserving our natural resources and wilderness areas for future generations.
The Boy Scouts of Troop 68 are very familiar with the Outdoor Code. They sometimes recite it as part of the opening at troop meetings. It is part of their Totin Chip and Fireman Chit training.
In the First Class Rank ceremony found in Woods Wisdom, the First Class Scout is called a Scout Camper. A good Scout Camper should follow the guidelines of the Outdoor Code, so when a Scout comes to me for his First Class scoutmaster conference we will take a few minutes to discuss the code and what it means. Is it a requirement of attaining First Class? No. But I believe it is important enough that a Boy Scout should be familiar with it.
As adult leaders in Scouting we also need to follow the Outdoor Code. If we throw trash on the ground, or do things that are not safe around a campfire, or show disrespect for the outdoors, then we are telling the Scouts that the Outdoor Code is meaningless. Actions DO speak louder then words.
So, going back to the first paragraph of this post… Do you know the Outdoor Code? And more importantly, do you practice its principles?