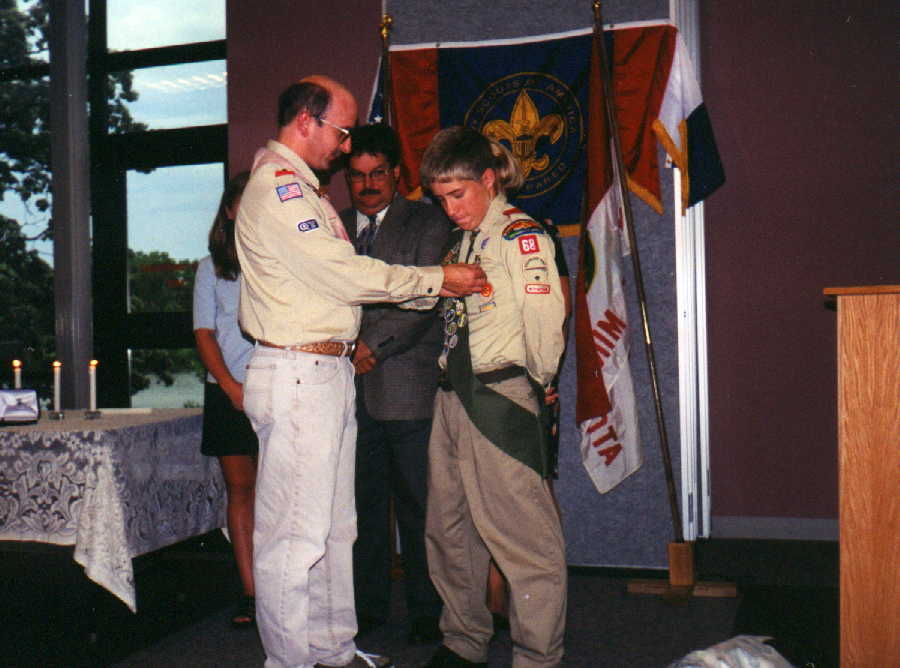 When a scoutmaster, troop committee, and council Eagle board review an Eagle project application there are a few things they keep in mind before approving it. How much planning is needed to organize and prepare the project? How will the Boy Scout show leadership during the project? Is it a worthwhile project for the community? What obstacles and challenges will need to be solved?
The Eagle Scout project
is not meant to be an easy thing to do. It is a test of the Scout's skills, his determination, and his work ethic. Can he solve problems? Is he able to handle the responsibilities? Can he work well with others?
An Eagle Scout Project does not always go according to plan. Weather conditions could postpone a project. Materials may not arrive on time, or could be backordered. People would could have helped on one day may not be able to help on another day. Some people need to cancel attending the project due to last minute plans. The project may need more time to be completed. How a Boy Scout handles these and other problems is just one aspect of the Eagle project.
Here are a couple of examples of Eagle projects that needed a second round of planning or work:
About ten years ago,
a Boy Scout wanted to do his project for the local elementary school. He was going to add some playground equipment and plant some trees so the kids would have shady areas in several years. I thought it was a good project. The troop committee agreed. The Scout send his workbook to the council to get approval.
I was surprised when I received a phone call a couple weeks later from the fourteen year old Scout to tell me that the council had not approved his project. He was very discouraged and did not know what he should do now. I drove to his home and we sat down ay his kitchen table to review his project and what the council wrote in their letter. It appeared that he did not do a good job of describing his project in his workbook. We talked about things for several minutes. Then I suggested he try again, this time adding more details about the project, and add a little more to the project, like planting a few more trees. He revised his plans, sent it back to the council, and received approval.
A couple of years later
another Boy Scout submitted a project of building and placing various types of bird houses along an eight mile portion of the new
Lake Wobegon Trail
. This project received council approval. However, when the Scout did the project the only people who assisted him were family members. He used no outside help. The committee and I as the scoutmaster agreed that this did not fulfill the leadership portion of the Eagle project. His mother became quite upset with us. He was frustrated. Then he and I sat down one evening and discussed it. To make a long story short, he did the project a second time inviting other troop members and people to assist in the project. I was quite proud of him when he completed his project.
Do not let a Boy Scout
get so discouraged when things do not go well that he throws up his hands and quits. As troop leaders and parents, we need to help them through the setbacks and encourage him to continue forward. Helping a Scout to achieve the rank of Eagle Scout is well worth the effort.